Production resources
Tools for measuring your projects
With a 5000 m² landside port in Le Croisic, Chantier Naval Croisicais has direct access to the sea via a 180-ton port lift, which belongs to the Pays-de-la-Loire Mixed Economy Corporation (SEM), but is managed and operated by us.
Designed to accommodate ships directly in the shipyard and in the dock for launching to sea, manoeuvring is easy and safe.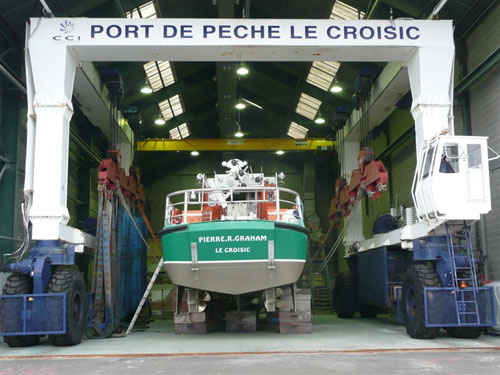 The 1600m² workshop has two halls:
A heated hall for manufacturing hulls
Another hall for assembly and fitting
Equipped with a 5-ton bridge crane, working along the entire length and width of the building, each hall is high below deck and under the portal, allowing access to the port lift during launch.
The 180m² office is used for reception, administration, and research, with hardware and software tools for designing ships (drawing plans, performing calculations, etc.).
Production equipment and machinery
A complete carpentry workshop with a circular saw, a band saw, a planer, a jointer, a shaper, a mortiser, and portable machinery
Five resin spraying machines
An RTM machine (low pressure injection)
A vacuum pump for producing a vacuum
Cutting table
Storage warehouse
Airless painting tools
Two osmosis treatment units (HOTVACK system)
Two forklifts
Two hydraulic lifts
And more